As with any product, there are numerous variations of fake grass to choose from, and while there aren't really "good" and "bad" types, there are variations that are better or worse for your particular needs and usage. You should research your options before choosing a type to install. Some types of artificial grass are best left for sports fields, while others are ideal for your backyard. Let's look at some of the more popular choices and what they offer.
Rye Species Artificial Turf
Made typically of nylon, these products offer a much tighter look than others. They also have a more random appearance, which makes them more natural-looking. These variations are ideal for families with pets or children, and perfect for installation in a sloped area. If you have children who love to play in the yard, a rye variation of synthetic grass is a great choice.Disadvantage: Due to its moderate price tag, popularity, and easy installation, there aren't many disadvantages to speak of, except maybe that you probably won't be the first in your neighborhood to install it.
Monofilament Synthetic Turf
This grass is uniform in width and height, with blades that are thinner than other types. Ideal for backyard installation, monofilament turf resembles rye and requires less processing than most fibrillated grasses. Cost is generally similar to other common types of turf.Disadvantage: Special tools, installation techniques and base rock preparation will be needed for proper installation of this material.
Fibrillated or Slit Film Turf
These generally have wide filament blades that need special processing to break them into smaller blades. An artificial lawn made with one of these products will resemble blue grass or fescue. It is also among the least expensive variations to purchase initially. However, the added processing cost must be taken into account.Disadvantage: Because of the additional processing that is necessary, it is not a great choice for first-time buyers. In addition, the cost of installation is generally higher than with other types.
Fescue Synthetic Grass
This is a broad category of fake grass, with many varieties to consider when choosing a lawn. You will find many choi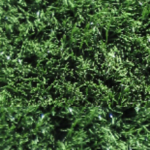 ces in height, color and weight. Because of the many options, this is a popular landscaping choice, for both home and business owners. With fescue, it's important that you purchase as much quality as your budget allows.Disadvantage: The many choices make it easy to choose an inferior product if you're not careful and simply choose the cheapest product. Deep discounts on fescue artificial grass usually equate to a product of poor quality.
Synthetic St. Augustine Grass
Augustine grass is famous due to its distinctive appearance. Popular with homeowners, it has wider blades, giving it a unique and natural look. It can also have a very soft feel, depending on the blade composition. Augustine synthetic grass is great for both low- and high-traffic areas.Disadvantage: Augustine fake grass is a great choice, however, if you prefer a heavier and more stable feeling turf, this may not be right for you. Augustine is one of the lightest products available.
Knit-de-knit Synthetic Turf
The basic definition of Knit-de-knit is a variation of yarn texturing where crimped yarn is produced by knitting yarn into fabric and heat-setting that fabric. The yarn will then be removed from this fabric, leaving it permanently crimped. A KDK lawn material will have a nylon thatch layer to support a monofilament fake turf. An artificial lawn made with KDK fake grass is durable and has a heavy weight to it. Installation cost is relatively low.Disadvantage: The only drawback is cost. Knit-de-knit turf is one of the most expensive.
The choice ultimately comes down to your needs and preferences. By exploring your options, you can settle on a product that not only looks great, but offers extensive functionality.