Synthetic turf sports fields, in particular those containing infill material of crumb rubber or a combination of crumb rubber and sand, require tender loving care. Maybe not as much as natural grass fields, but regular maintenance nonetheless. That was the message that two experienced sports fields pros shared at the (STMA) Conference here on Wednesday.
Their comments contained an hour of practical advice, most of it focused on the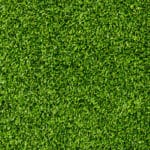 grounds manager's role in keeping synthetic playing surfaces clean and safe. That task, of course, starts with the grounds manager determining the types of equipment and materials they will need to maintain the safety and longevity of the facilities they maintain. Then its up to the field manager, in particular his or her persistence and powers of persuasion, to convince management that these tools are needed. The earlier in the process that this is done, the better.
Here are some of the main points they made during their joint presentation. Sweeping and grooming Synthetic turf fields require periodic sweeping and grooming. This requires suitable equipment. Manufacturers have responded with growing variety of pull-behind and self-powered units with brushes and/or tines. Don't be overly aggressive. Brushing or grooming too deeply into the fibers or too often will shorten the life of the field's polyethylene fibers.
"I am not a big fan of moving infill around just to move it around," said the speaker. A better approach in most cases, he suggested, is to set the brushes so that they move over just the top of the fibers. Brushing or grooming a field, especially school or community fields, once every three weeks or so will keep the infill material where it should be, distributed evenly and approximately 3/8 of an inch below the tips of the fibers.
But there are instances where a field manager can't wait several weeks to keep his/her field clean, for example when they get covered with leaves, pine needles or other debris. You don't want players shredding and grinding debris into the field and contaminating the infill material.
"Air is a great thing," he said, showing several slides of blower units being worked across the surface of synthetic fields. Don't direct the air down into the infill material. Instead direct the air horizontally across the surface so that you remove the debris off of the field where it can be picked up with a sweeper. You don't want to be blowing around infill material. In cases where trees regularly drop leaves or seeds (helicopters) onto your fields you might consider putting up netting. Fence them if you can Another great tool to protect your field is a fence with a gate that you can lock.
A fence discourages unauthorized use and vandalism, and it's also a handy place for signage that spells out the "do's and don'ts" for field users. For instance, it might tell users not to bring tobacco products, candy, gum or sunflower seeds onto the playing field.
Actually signage is just one part of the larger process of working with and educating athletic directors, coaches, players and others that have a stake in your fields' performance and longevity. The more people that understand the challenges involved in maintaining your fields, the easier it will be to gain their cooperation. You need water too While you never have to irrigate synthetic turf to keep it alive like real grass, you need a source of water just the same. There will be times when you will have to clean the field using water, or remove painted lines or logos, or cool the field. Actually several sources of water on either side of the field (if they're designed into the subgrade all the better) is adequate for most synthetic fields. Extra infill is handy.
Finally, try to keep some extra infill on hand. If you can get the installer to give you a 55-gal. drum of the material, you'll certainly find uses for it as you notice and refill areas on your fields that get a lot of traffic, such as the goal mouths or corner kick areas of a soccer field. Synthetic turf is allowing more people, young and old, to participate in outdoor sports and in conditions that are often unthinkable on natural grass fields.